Local Moves - Residential and Commercial Local Movers
Lynchburg Local Moving Company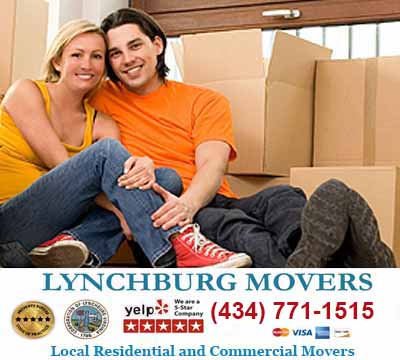 Moving locally with the most trusted moving company in Central Virginia. We know that we are not only moving clients, but people who may be our relatives, friends and neighbors, with many years of moving experience. With deep roots in the Lynchburg area, you can trust that a professional local moving company works with you. You will appreciate the expertise and quality service you will get from our staff from initial estimate through moving day.
We are here to assist! Lynchburg Movers is a team of highly experienced local Central Virginia movers that are available 7 days a week to help you move to virtually anywhere in and around the state. No one knows the area better than we do. We service all of Lynchburg, Roanoke, Bedford, Appomattox, Ashland, Blackstone, Charlottesville, Colonial Heights, Chester, Farmville, Franklin, Hopewell, Petersburg and even as far away as Richmond.
We are a team of local moving experts trained and certified to take care of your belongings from beginning to end. Our local moving team can help you move down the street or into the neighborhood next door. Our local movers in Lynchburg are known as the best in the region with commitment, expertise, and attention to detail.
We specialize in all forms of local relocation projects, from houses to apartments, high-rises, condos, and office buildings, and our moving teams are professionally trained to handle any situation. You can rest assured knowing that our movers will treat your belongings with the highest degree of care, and we have all the required resources to ensure that the job is done correctly.
Switch To Lynchburg Local Movers For Less Cost
When you need local moving assistance in or around Lynchburg call us first. Our agents are based very centrally, so it is easy for us to move you to anywhere in the area. Your belongings are handled with utmost care across the wide variety of local moving services such as industrial , residential, packing, and storage services. By using high quality moving materials and equipment, we guarantee the secure delivery of your belongings.
You will be able to count on:
Fully Certified Trucks - Our moving trucks are professionally fitted and certified to securely and conveniently transport your belongings.
We Are Insured and Bonded - Local moving services provide moving insurance for Virginia. You can be sure your belongings are completely secured and insured with Lynchburg Movers. And like all moving companies we are fully bonded.
Packing Services For Full Service Local Moves - Not only can our experienced packers help you pack and load your things into the moving truck, but in the case of moving heavy items, you can also rely on free moving blankets, moving boxes, dollies and lift gates.