Commercial Local and Long Distance Movers Lynchburg
Every organization is special, and this applies to your company as well.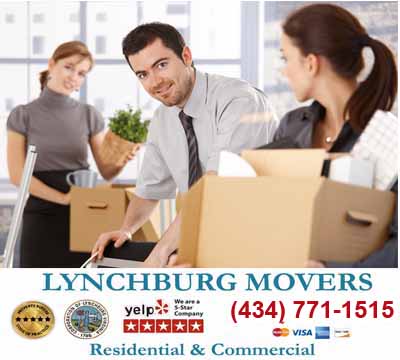 An office move is no longer simply moving desks, chairs, and file cabinets. Today, servers, advanced research equipment and production equipment need to be up and running on time. We understand, and same as with your business, our specializations have grown. Lynchburg Movers specializes in moving your office economically. To fulfill your business needs, we provide the necessary expertise and abilities to provide tailored moving solutions. We are more than up to the challenge, and eager to help you move.
Commercial moves vary entirely from residential transfers. They need special skills, something that is not often provided by standard moving services. In Virginia, there are many small businesses, and a large portion of them move to new office premises every year. Commercial movers assist businesses to organize and conduct their movements without disturbing day-to-day business activities.
Business moves involving the transportation of critical documentation
Commercial transfers include the transportation of extremely confidential information such as tax reports, internal accounts and other delicate information, unlike most residential relocations. The majority of organizations would also have a computer system with critical information. In the United States, data security laws mandate business owners to retain these records and systems safe and protected at all times, even when moving to new premises.
Lynchburg Movers relocates all sensitive documents with the highest care, providing companies with the peace of mind they need in Central Virginia. We perform comprehensive background checks on all our employees and use the best corporate practices at all times. Companies will benefit from our trusted, commercial moving services in the region. We help business owners pack and unpack critical documents and equipment.
Continuity of business activities, and particularly during the moving process, is essential to business. That is why we ensure the minimum of delays to your company. When you contact us for an office moving quote, we will review your company operations to ensure that, relative to this relocation, we understand every aspect of your business. For this very reason, we provide evening and weekend relocations for businesses because your daily operations need to be minimally disrupted during the transfer. In addition, we will plan for additional moving specialists and equipment to deal with the transfer most effectively. We are the movers that companies use when things have to be finished completely quickly and correctly.
Moving economically
A successful office mover will help you set out your new floor plan, arrange with the client and property managers for pre-moving planning, and assist you in installing or removing your furniture. We have one of the most professional teams who can assist you with everything from scheduling to helping assemble office furniture. Lynchburg Movers can get to to your new address at a very competitive rate.