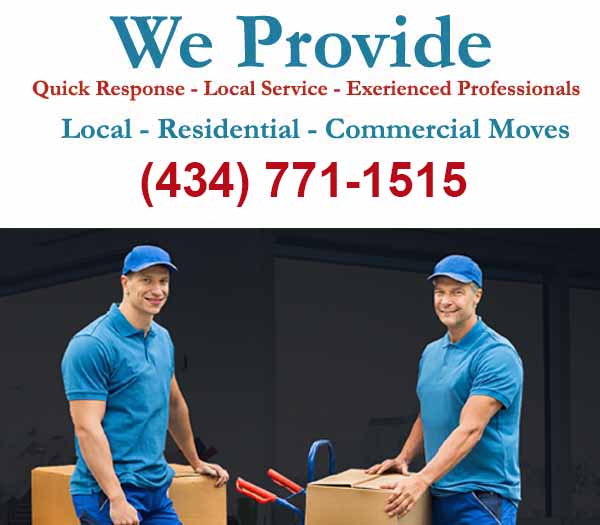 Lynchburg Movers - Residential and Commercial Moving Services in Virginia
We Provide Local, Residential, Commercial and Long Distance Moving Services.
Lynchburg Movers is your number one choice when you need to relocate anywhere in Central VA. We will get you and your belongings safely from A to B. We serve the following locations: Appomattox, Ashland, Bedford, Blackstone, Charlottesville, Colonial Heights, Chester, Farmville, Franklin, Hopewell, Lynchburg, Petersburg, Richmond and Virginia state in general.
We provide Domestic and Commercial moving services. We take pride in being the friendliest moving service in VA. Your move is always safe with us. Call us today on (434) 200-8378 or request a call back!
At Lynchburg Movers we can handle all your moving needs. Our only goal is to make the relocation process as simple and straightforward as possible for you. Whether you are moving to a nearby location or another state, distance is never a problem for us. If you are moving home, business, or office we always have a solution to your needs.
It doesn't matter to us, if you're moving to another country, to another part of the state, or just across town, any time you need to move home Lynchburg Movers will make sure your move is smooth and easy, at every step of the way.
Lynchburg Movers is a professional, Virginia local moving company. We are 100% dependable and we offer better rates compared to other local moving services.
Ready To Move?
If you are in the process of moving home or workplaces, it is vital that you have the help of the professionals from Lynchburg Moving Company Pros. Lynchburg Moving Pros are industry leaders in helping individuals and companies easily and effectively relocate their property and belongings from one place to another. Using Lynchburg Moving Pros, you can rely on warm and friendly movers which will make your transition seamless, safe and secure. We employ highly trained specialists at Lynchburg Moving Pros that can assist home or property owners get all of their possessions to their new location. Whether you are looking for a full-service or do-it-yourself moving company, Lynchburg Moving Pros of Virginia provides the expertise and capacity to help.
Service Areas In Lynchburg Virginia
Our service areaLynchburg Moving Pros services the entire Lynchburg and Central Virginia area. Ideally, the sooner you contact us before your move the better. It is a great idea to offer whichever movers you work with a few weeks notice so they can design and carry out an effective relocating strategy for your particular and exact preferences. All moving companies, for their basic residential moving services, need customers to choose an alternate pick-up and delivery date. Simply by getting in touch with your movers a few weeks beforehand, will give the company time to schedule you in. Call the experts from Lynchburg VA Moving Pros today to get a free quote for your upcoming move! We are located in the city of Lynchburg, but we operate an affordable state-wide service. There is a reason we are the number one movers in VA.
Residential Movers
Relocating can be quite a stress filled process. The truth is, just after death and divorce, Americans find it to be one of the most stressful time in their lifetime. This is why it is so significant to get help from a professional moving provider like ourselves. There are several points to take into account with regards to choosing a moving company of when looking for movers. You need to make certain that you are getting the very best people and the greatest services your money can buy. Get in touch with our specialists at Lynchburg Movers today to learn how we can help you with your moving needs.
If you want the services of a professional moving company in Central Virginia that will guard your properties and household belongings from beginning to end and treat your items with the proper care and respect, then call Lynchburg Movers.

Commercial Moving
Commercial moves are our specialty. When you move office with us we plan your move with you to keep your business downtime to a minimum. Our professional moving team includes packers and movers, who work together to deliver the kind of service you can rely on to relocate your business and resume operations without delay of any kind. Lynchburg Movers is the most qualified moving company in Virginia to help you move. We may be local to Lynchburg, but we operate all over Virginia State.
No matter the size of your operation, Lynchburg Movers can provide a moving solution tailored to your corporation. We relocate businesses locally or long distance. Lynchburg Movers has the knowledge and expertise to relocate single offices to entire floors. We streamline your relocation process by integrating our services with your management requirements on any level. As specialized movers of large heavy items (Pianos, Safes, Filing Cabinets etc.) Lynchburg Movers is set up to handle most commercial and local moves, the only exception being large machinery and toxic or hazardous materials and compounds. Our guys are all pro movers with a long history in the industry. You will not find more reliable movers anywhere in Virginia.
Storage and Storing Facilities
If for any reason at all you cannot immediately move into your new property or you wish to keep some of your belongings in long term storage we can help. Our partner storage rooms are conveniently located and easily accessible. We can offer different storage sizes depending on your needs. We have several facilities available throughout VA. We offer free quotes on storage as well.
Packing Services
If you want to have the least amount of headache with your upcoming move you can take our full service move option. With the full service move, we will take care of the entire move including, disassembly, packing and marking boxes, loading, transport, unloading and unpacking on arrival at your new destination. When you call us let us know upfront if you need a full service move which includes packing.
Our Movers
Our guys are the best in the industry and will labor until the job is completed to your satisfaction. Our van and transport units are state of the art and customized for carrying heavy loads. When you need a pro mover you can trust, you need to phone us today, and we'll send someone out to have a look at your haul. We will offer you a free affordable quote after looking at the haul. Our quotes are based n the size of the move, the distance you need to go and time it takes to load and unload at the new destination. Our guys will make sure everything goes as planned. We are partnered with another American mover in the city which allows us to keep labor costs down.
Moving Price Quotes
Our lines are open between 8AM and 6PM and we'll be happy to schedule you in for a free visit. It is always faster to phone us than fill out the contact form. Our lines are always manned so there is no waiting time. Our quotes are provided 100% free of any commitment.
How Does It Work?
Before giving you a quote on your move, one of our guys will come by your property at a time that is convenient for you and do a walkthrough. Normally a walkthrough takes about 10 to 15 minutes to complete. Our guy will take pictures of the items that need moving and also the state they are in. In most cases you can get a quote right on the spot after completing the assessment.
Why Do A Walkthough?
We do a walkthrough so we can give you the most competitive price we can. Lynchburg Movers don't like to just "guestimate" an amount that later turns out to be too high. With our service you will never have unannounced charges or fees. Or moving costs are always exact.
Find Us On Google Maps